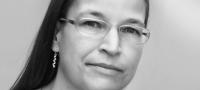 Research fellow, assistant professor, researcher in the project of revising orthographic rules and compiling orthographic dictionary
Phone:
E-mail:
Location:
Novi trg 4 (5. nadstropje)
Links:
Researcher's IDs:
Research interests
Tina Lengar Verovnik (born 1974) is a part-time researcher at the Ortographic Section, a member of the group preparing the new Slovenian Normative Guide and a member of the editorial board of the online Language Counselling site. She coordinates activities of the Commission on Orthography at the Slovenian Academy of Sciences and Arts and the Scientific Research Centre of the Slovenian Academy of Sciences and Arts and is a member of the Commission's select committee. Her research focuses primarily on orthography and normative issues of the contemporary standard Slovene, on written and oral language culture, and on stylistics of radio journalistic genres. She is co-editor of the growing orthographic dictionary ePravopis, co-author of the Slovenian Normative Guide Pravopis 8.0 and co-author of the Problem Categories of ePravopis (all available on the portal Fran). She works full-time as an assistant professor of the Slovene Language at the Chair of Journalism, Faculty of Social Sciences, University of Ljubljana.
Research Areas
● Slovenian standard language
● normativity
● language counselling
● stylistics
● media language
Education, Academic and Scientific Titles
● 2014–: research fellow, ZRC SAZU, Fran Ramovš Institute of the Slovenian Language
● 2011–: assistant professor for the Slovenian Language, Faculty of Social Sciences, University of Ljubljana
● 2010: PhD: Radio Journalistic Dialogue Genres as a Framework for the Linguistic Choices Made by Journalists, Faculty of Arts, University of Ljubljana
● 2002: MPhil: Dynamics of the Standard Language Norms, Faculty of Arts, University of Ljubljana
● 1999: BA degrees in A – Slovenian Language and Literature and B – General Linguistics, Faculty of Arts, University of Ljubljana
● 1992: international baccalaureate, II. gimnazija Maribor, Maribor
Employments, Leadership Positions and Competences
Employments:
● 2019/20: temporary employment, Academy of Theatre, Radio, Film and Television, University of Ljubljana
● 2016–: temporary employment, Institute of Slavistics, University of Klagenfurt, Austria
● 2014–: secondary employment, ZRC SAZU, Fran Ramovš Institute of the Slovenian Language
● 2013/14: visiting professor, Institute of Slavistics, University of Klagenfurt, Austria
● 2013/14: temporary employment, Academy of Theatre, Radio, Film and Television, University of Ljubljana
● 2001–: Faculty of Social Sciences, University of Ljubljana
● 1999–2001: Faculty of Arts, University of Ljubljana
Supervisions:
● MPhil supervision: Peter Čakš
● PhD co-supervision (ongoing): Peter Čakš, Kaja Jošt
● More than 30 supervisions and co-supervisions of MAs and BAs
Other Experience:
● Coordination of the activities of the Commission on Orthography at the Slovenian Academy of Sciences and Arts and the Scientific Research Centre of the Slovenian Academy of Sciences and Arts
Work in Editorial Boards and Expert Commissions
● 2020: member of the programme committee of the Symposium Obdobja
● 2017–: member of the Commission for Academic Affairs, Faculty of Social Sciences, University of Ljubljana
● 2016/17: member of the Senate, Faculty of Social Sciences, University of Ljubljana
● 2015–17: member of the Prešeren Awards Commission, Faculty of Social Sciences, University of Ljubljana
● 2015: member of the programme committee of the Symposium Obdobja
● 2014–: member of the editorial board of the online Language Counselling
● 2012–: member of the Commission on Orthography at the Slovenian Academy of Sciences and Arts and the Scientific Research Centre of the Slovenian Academy of Sciences and Arts
● 2005–2007: member of the workgroup preparing instructions for the uniform use of titles, orthographic rules and drafting of official texts, National Assembly
Outstanding Achievements, Awards and Grants
● 2020: co-editor and co-author of scientific monograph Kje pa vas jezik žuli? Prva pomoč iz Jezikovne svetovalnice
● 2019/20: three-month research work at the Institute of Slavistics, University of Klagenfurt, Austria
● 2019: co-author of the Slovenian Normative Guide Pravopis 8.0 (chapters Written signs and Abbreviations)
● 2014–: co-author of the Problem Categories of ePravopis 2019
● 2014–: co-editor and co-author of the growing orthographic dictionary ePravopis
● 2015: co-editor and co-author of scientific monograph Pravopisna
Research areas
Linguistics H350 • Grammar, semantics, semiotics, syntax H352 • Lexicology H353 • Applied linguistics, foreign languages teaching, sociolinguistics H360
Keywords
Ortography • Language Norms and Standardisation • Language Culture • Spoken Language • Stylistics • Media Language