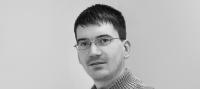 Researcher in Terminological Section
Research interests
He participates in compilation of terminological dictionaries (civil engineering, animal science) and investigates the development of terminology.
Selected publications
PEČELIN ŽAGAR, Saša (ed.). Šolski slovar, Francoščina: francosko-slovenski in slovensko-francoski. 1st ed. Ljubljana: Rokus Klett, 2010.
All publications (COBISS) >>
Curriculum Vitae
2010: graduated with degrees in French language and literature and general linguistics.
Research areas
Linguistics H350 • History of language H355
Keywords
slovaropisje • terminologija • zgodovina jezikoslovja