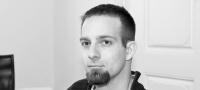 Researcher on the project the New Dictionary of the Slovenian Language (Novi slovar slovenskega jezika)
Research interests
His research focuses on Slovenian and Slavic phraseology and paremiology. In his PhD, he created Slovenian paremiological optimum – a set of most well-known and frequent proverbs and similar units in Slovenian. In his research in phraseology, he focuses on sociolinguistic and corpus approaches.
Selected publications
METERC, Matej. Online questionnaire providing information on most well-known and well-understood proverbs in Slovene language. JESENŠEK, Vida, GRZYBEK, Peter (eds.). Phraseologie im Wörterbuch und Korpus. Phraseology in Dictionaries and Corpora (Zora, 97). Univerza v Mariboru, 2015, pp. 205–216.
METERC, Matej. Enote slovenskega paremiološkega minimuma v govornem korpusu GOS. Slavistična revija, 2015, 63/ 1, pp. 1–16.
METERC, Matej. Je prihodnost slovenskih antipregovorov (le) pregovorna? TIVADAR, Hotimir (ed.). Prihodnost v slovenskem jeziku, literaturi in kulturi. 50. Seminar slovenskega jezika, literature in kulture. Ljubljana, Filozofska fakulteta, Center za slovenščino kot drugi/ tuji jezik, 2014, pp. 113–16.
ĎURČO, Peter, METERC, Matej.: Empirične paremiološke raziskave tipov ekvivalentnosti in suprasemantičnih razlik v slovenščini in slovaščini. Slavia centralis 2013, 6/2, pp. 20–37.
METERC, Matej: Antonimija enako motiviranih paremioloških enot (primeri iz slovenščine in slovaščine). Slavistična revija, 2013, 61/ 2, pp. 361–376.
All publications (COBISS) >>
Curriculum Vitae
Born: 5 July 1984 in Jesenice.
2007–2013: student exchanges in Banská Bystrica, Bratislava and Trnava.
2010–2012: worked as a translator at the Embassy of the Republic of Slovenia in Bratislava.
2011: graduated from the Department of Slavistics, Faculty of Arts, University of Ljubljana, with degrees in Russian and Slovak languages and literatures.
2014: completed his PhD studies and defended his PhD thesis entitled Primerjava paremiologije v slovenskem in slovaškem jeziku na osnovi paremiološkega optimuma (Comparison of Paremiology in the Slovenian and Slovak Languages on the Basis of Paremiological Optimum).
Since 2015: employed at the Fran Ramovš Institute of the Slovenian Language of the Research Centre of the Slovenian Academy of Sciences and Arts.
Research areas
Linguistics H350 • Grammar, semantics, semiotics, syntax H352 • Lexicology H353 • Applied linguistics, foreign languages teaching, sociolinguistics H360
Keywords
frazeologija • paremiologija • slovaropisje • slovakistika • rusistika