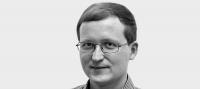 Researcher on the project the New Dictionary of Slovene language (Novi slovar slovenskega jezika)
Research interests
Domen Krvina's work focuses on the verbal aspect in Slovene and Slavic languages. His particular research interest lies in the influence of the syntactic and semantic context on the choice of aspect and how to present the findings obtained with appropriate qualifiers in different dictionaries. Since 2011 he has been participating in the formation of the New Dictionary of Slovene language.
Selected publications
KRVINA, Domen. Glagolski vid in njegova uporaba na primeru ponavljalnosti v ruščini in poljščini v primerjavi s slovenščino. In Boža Krakar Vogel (ed.), Zbornik Slavističnega kongresa 2011. Ljubljana: Slavistično društvo Slovenija, 2011, pp. 237–240.
Curriculum Vitae
Born: 24 July 1986 in Kranj.
2011: Graduated (BA Hons.) in Russian language and literature, and Polish language and literature in the Department of Slavic Languages and Literatures, Faculty of Arts, University of Ljubljana. After graduation, he started PhD Studies in the Interdisciplinary Doctoral Programme in the Humanities and Social Sciences – Slovene Studies, Faculty of Arts, University of Ljubljana.
Since 2011: employed in the Fran Ramovš Institute of the Slovenian Language, ZRC SAZU.
Research areas
Linguistics H350 • Grammar, semantics, semiotics, syntax H352 • Lexicology H353 • Comparative linguistics H380 • Russian language and literature H595
Keywords
aspectology • lexicography • Russian studies • Polish studies