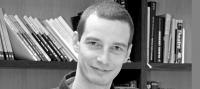 Researcher on the project the New Dictionary of Slovene language (Novi slovar slovenskega jezika)
Research interests
Andrej Perdih's research focuses on modern lexicology and lexicography.
Selected publications
PERDIH, Andrej. Reimški evangelij – jezik glagolskega dela. Jezikoslovni zapiski, 16/1 (2010), pp. 147–162.
PERDIH, Andrej (ed.). Strokovni posvet o novem slovarju slovenskega jezika, 23 and 24 October 2008. Ljubljana, Založba ZRC, ZRC SAZU, 2009.
ZORMAN, Marina, ROJKO, Katarina, ANTAUER, Živa, CAJNKO, Mojca, MATIČ, Tanja, PEČNIK, Polona, PERDIH, Andrej, PODLIPNIK, Nina, ZOTLAR, Nadja. Zakaj je bilo treba uničiti Zalpo. Hetitska legenda. Razprave Filozofske fakultete. Ljubljana: Znanstvenoraziskovalni inštitut Filozofske fakultete, 2005. 120 pp.
Curriculum Vitae
Born: 30 October 1980 in Kranj.
2001: attended summer school for Czech in Masaryk University in Brno.
2004: attended summer school for Lithuanian in Klaipėda University.
2004 and 2005: studied in Charles University in Prague and Masaryk University in Brno.
2007: graduated (BA Hons.) from the Department of Comparative and General linguistics, Faculty of Arts, University of Ljubljana, in the field of Comparative linguistics and Comparative Slavic linguistics.
Since 2008: employed in the Fran Ramovš Institute of the Slovenian Language, ZRC SAZU.
Research areas
Linguistics H350 • Grammar, semantics, semiotics, syntax H352 • Lexicology H353 • Baltic and Slavonic languages and literatures H590
Keywords
lexicology • lexicography • dictionary
Recognitions & awards
2003: Prešeren Award, awarded by the University of Ljubljana