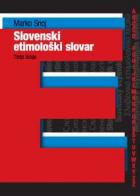 Title:
Author:
Year:
Compilation:
Keywords:
Language(s):
Description
Slovenski etimološki slovar je namenjen vsakomur, ki ga zanima, zakaj se kruhu reče kruh, vodi voda, vinu vino in ne kako drugače, od kod so v slovenščino prišle besede aperitiv, gangster, garsonjera in kateri so njihovi prvotni pomeni. Zasnovan je kot jezikovni priročnik, s katerim lahko tudi jezikoslovnih besedil manj vajen uporabnik izve, od kod izvirajo današnje slovenske knjižne besede in kaj so prvotno pomenile. Etimološke razlage so zato poljudnoznanstvene: spremlja jih minimalna argumentacija in dokumentacija, prvotni pomeni posameznih besed so nazorneje izraženi, vendar skušajo vsebinsko ustrezati današnji stopnji razvoja etimološke znanosti. 
Prva izdaja Slovenskega etimološkega slovarja je izšla leta 1997, druga leta 2003 (ponatis 2009). Tretja izdaja v 9494 slovarskih sestavkih obravnava nekaj več kot 30.000 slovenskih besed, predvsem knjižnih, ki jih osvetljuje s prikazom več kot 64.000 tujih. Od druge izdaje se razlikuje predvsem v izboljšanju nekaterih etimoloških razlag in v navajanju okvirnega pomena za vsako slovarsko iztočnico. Delo je v elektronski obliki prosto dostopno tudi na slovarskem portalu Fran.
The dictionary ('The Slovenian Etymological Dictionary') answers the questions why the Slovenian word for »bread« is spelt kruh, the word for »water« voda, why the word meaning »wine« is vino, and not otherwise; from which languages Slovenian words aperitiv, garsonjera, gangster, etc. have been borrowed, as well as what they originally meant. It is designed as a reference book from which one learns the origin of contemporary standard Slovenian words even without having profound linguistic knowledge. Etymological explanations are therefore written in a way that they can be understood by non-experts. They are accompanied by minimal argumentation and documentation, the original meanings of the words are expressed explicitly, but in accordance with the achievements of modern Slovenian, Slavic, and Indo-European etymology.
The third edition of the dictionary (the first edition was published in1997, and the second in 2003) contains 9,494 entries, in which 30,221 most frequent Slovenian words are etymologically explained. The content of the dictionary is available online on the portal www.fran.si.
Publishing House
Založba ZRC
ISBN
978-961-254-886-5
Specifications
hardback • 16,5 × 24 cm • 1052 pages
Price
39,00 EUR (Regular)
29,00 EUR (Club)