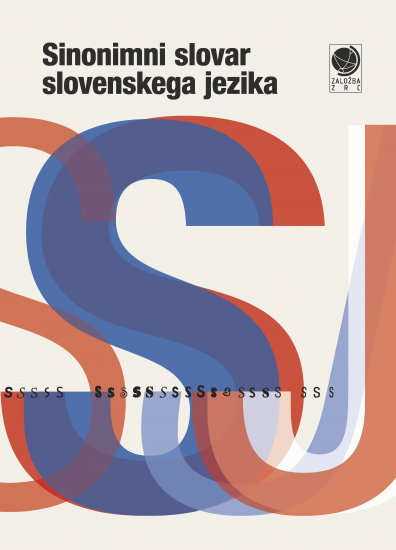 Sinonimni slovar slovenskega jezika
Authors: Martin Ahlin, Branka Lazar, Zvonka Praznik, Jerica Snoj
Year: 2016

The book ('Synonym Dictionary of Slovenian Language') complements semantic description of Slovenian Language by presenting more than 250 000 synonymic relations between words in 33 077 strings of synonyms on 1200 pages. The description of synonymy is based on the premise that there is no absolute semantic equivalence between words and multi-word expressions in the language, and that the essence of synonymy lies in the fact that it makes possible to present same facts and reality in various ways. The dictionary therefore provides semantic characteristics of each synonym in relation to other synonyms and for each meaning of the word.
Headwords in the dictionary (74 509) are arranged alphabetically and consist of two types of entries - dominant entries and cross- reference entries. In the dominant entries the headword is followed by the explanation of the meaning, exemplification of usage, and the string of synonyms, near-synonyms and antonyms. In the cross-reference entries (52 008) the directional reference points to the dominant entry where synonymy of the cross-reference entry is presented. Synonymic relations presented in the dictionary were assessed through systematic research of semantic descriptions in the Dictionary of Slovenian Standard Language.
The dictionary was compiled in the Lexicological department of the Fran Ramovš Institute for Slovenian Language. All four authors were editors of the first edition of the Dictionary of Slovenian Standard Language and of the Slovenian Orthography Dictionary. Synonym Dictionary of Slovenian language is conceived as a practical guide that helps the user to find the "right" word, and serves also as the basis for further research in the field of synonymy.
---
Other authors

editor-in-chief

Publishing House:

Založba ZRC

ISBN

978-961-254-918-3

Year

2016

Language(s)

Specifications

hardback 21 × 29,7 cm 1292 pages

E-publications

Permalink