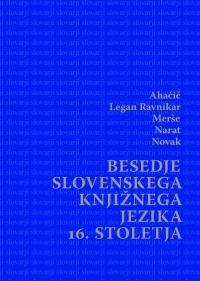 Besedje slovenskega knjižnega jezika 16. stoletja.
Authors: Kozma Ahačič, Majda Merše, Jožica Narat, France Novak, Andreja Legan Ravnikar
Publishing House: Založba ZRC
Year: 2011

This dictionary provides comprehensive information on the vocabulary used in the Slovenian literary language during the period of the Reformation. It was written based on complete concordance from all editions of Slovenian texts from the period 1550-1603. The word entries are accompanied by grammatical information, such as the part of speech used and other grammatical data. The extent of their use is shown by the attributed sources. The features of the linguistic system of that period are also shown by numerous notices regarding written, phonological and morphological variations.
---
Publishing House

Založba ZRC

ISBN

978-961-254-252-8

Year

2011

Language(s)

Specifications

hardback 17,5 × 24,5 cm 641 pages

E-publications

Database FRAN (2014)
ISBN 978-961-254-724-0

Permalink