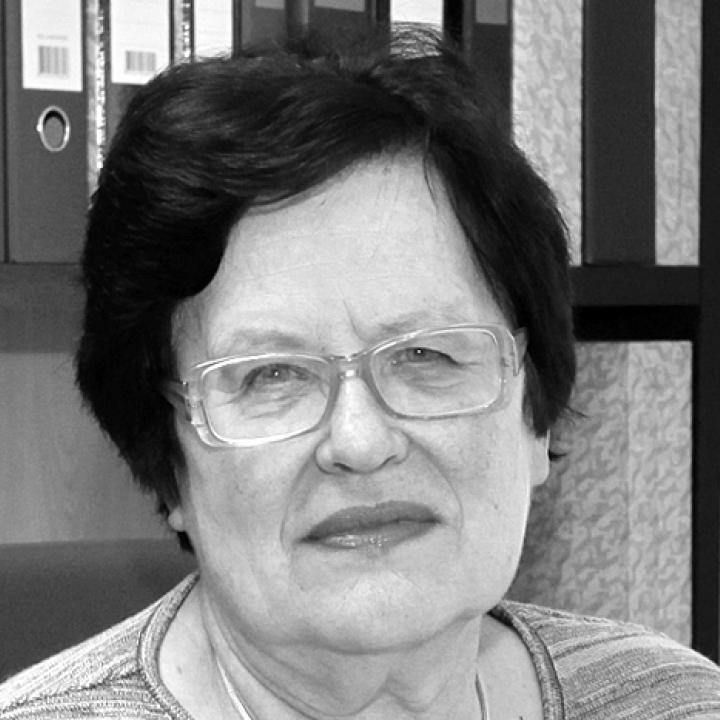 Marjeta Humar, PhD
Researcher and Head of the Terminological Section
marjeta.humar@zrc-sazu.si, marjeta.humar@guest.arnes.si
Marjeta Humar's research focuses on Slovene lexicology, terminology and terminography. From 1974 to 1991 she participated in the development and completion of four volumes of the Dictionary of Standard Slovene, published in 1975, 1979, 1985 and 1991. Since 1991, she has been working on Slovene terminology and terminological dictionaries.
Golden Award from the Municipality of Kamnik in 2008
MUCCI, Carlo, HUMAR, Marjeta. Slovensko-italijanski in italijansko-slovenski slovar elektronike, elektrotehnike in telekomunikacij = Dizionario sloveno-italiano e italiano-sloveno di elettronica, elettrotecnica e telecomunicazioni. Trst: Mladika, 2010. 535 pp.
SUŠEC MICHIELI, Barbara, HUMAR, Marjeta, PODBEVŠEK, Katarina, LOKAR, Slavka, MAJARON, Edi, MOLKA, Viktor, MODER, Janko, HERZOG, Miran, KOCJANČIČ, Ana, ŽAGAR, Mojca, SUŠEC MICHIELI, Barbara (ed.), HUMAR, Marjeta (ed.), PODBEVŠEK, Katarina (ed.). Gledališki terminološki slovar. Ljubljana: Založba ZRC, 2007. 271 pp.
HUMAR, Marjeta. Protipomenskost v terminologiji. In OREL, Irena (ed.). Razvoj slovenskega strokovnega jezika : povzetki predavanj: summaries : rezjume dokladov : mednarodni znanstveni simpozij, Ljubljana 17.–19. november (Obdobja, Metode in zvrsti, 24). Ljubljana: Center za slovenščino kot drugi/tuji jezik pri Oddelku za slovenistiko Filozofske fakultete, 2005, pp. 17.
MLAČ, Bine, HUMAR, Marjeta, KLINAR, Stanko, LESKOŠEK, Bojan, POLLAK, Bojan, SAVENC, Franci, ŠEGULA, Pavle, VENGUST, Albin, ZUPET, Stanislav Bojan. Planinski terminološki slovar: slovensko-angleško-nemško-francosko-italijanski slovar planinskega, alpinističnega, plezalskega izrazja, (Zbirka Slovarji). Ljubljana: Založba ZRC, ZRC SAZU, 2002. 455 pp., illustr.
AHLIN, Martin, BOKAL, Ljudmila, GLOŽANČEV, Alenka, HAJNŠEK-HOLZ, Milena, HUMAR, Marjeta, KEBER, Janez, KOSTANJEVEC, Polona, KOŠMRLJ-LEVAČIČ, Borislava, LAZAR, Branka, MÜLLER, Jakob, NOVAK, France, PRAZNIK, Zvonka, SNOJ, Jerica, ŠIRCELJ-ŽNIDARŠIČ, Ivanka, TAVZES, Cvetana, VOJNOVIČ, Nastja, JANEŽIČ, Marija, JENČIČ, Jela, KOROŠEC, Tomo, LEDER, Zvonka, MAJDIČ, Viktor, MEZE, Joža, SILVESTER, Marta, VIDOVIČ-MUHA, Ada, KOZLEVČAR, Ivanka, JAKOPIN, Primož, BAJEC, Anton (ed.). Slovar slovenskega knjižnega jezika. Ljubljana: DZS, 2000. XLVI, 1714 pp.
HUMAR, Marjeta. Papirniški terminološki slovar. Ljubljana: Znanstvenoraziskovalni center Slovenske akademije znanosti in umetnosti, 1996. 353 pp.
Born: 11 February 1946 in Kamnik.
Graduated (BA Hons.) from the Department of Slavic Languages and the Department for Comparative Literature, Faculty of Arts, University of Ljubljana.
1969–1974: employed as a teacher of Slovene in the Fran Albreht Primary School in Kamnik.
Since 1974: employed in the Fran Ramovš Institute of the Slovenian Language, ZRC SAZU.
Keywords
Slovene language
antonymy
lexicography