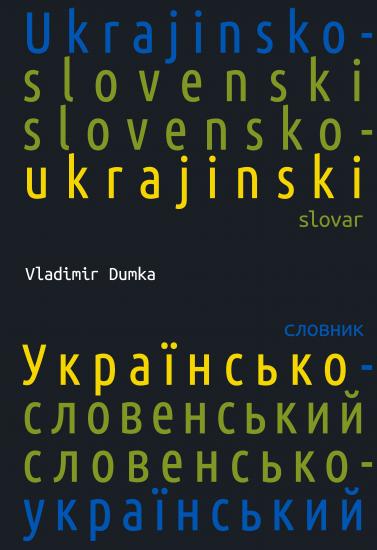 Ukrajinsko-slovenski in slovensko-ukrajinski slovar.
Українсько-словенський та словенсько-український словник.
Author: Vladimir Dumka
Publishing House: Založba ZRC
Year: 2018

The Ukrainian-Slovene dictionary and its Slovene-Ukrainian version (compiled by Vladimir Dumka) contains 24,352 Ukrainian and 22,515 Slovene entries. The Ukrainian language part was revised by Ukrainian colleague Dr Liudmyla Danylenko from the Institute of Linguistics O.O. Potebnje, National Academy of Sciences of Ukraine. The lexicographical refinement of the Slovene language was done by Dr Silvo Torkar from the Institute for the Slovene Language Fran Ramovš ZRC SAZU. To ensure the highest level of translations, the glossary was reviewed by the permanent court interpreter, Natalija Glažar Berčič. The Ukrainian part of the dictionary relies predominantly on the eleven-volume explanatory dictionary of the Ukrainian language Slovnik ukrainian movi (1970-1981), while the Slovene part draws on the dictionary of the Slovene literary language (Slovar slovenskega knjižnega jezika, 1970-1991) and the Slovene orthography (Slovenski pravopis, 2001). The dictionary is intended for Slovenes learning Ukrainian or traveling to Ukraine, as well as for Ukrainians visiting or moving to Slovenia or those who want to learn the Slovene language. This is a much-needed contribution to improving the contacts between the two nations and their cultures.
Українсько-словенський словник та його словенсько-українська версія, який уклав Володимир Думка, містить 24 352 українських і 22 515 словенських заголовних слів. Редагуванням українських реєстрових слів займалася українська колега доцент, кандидат філологічних наук Людмила Іванівна Даниленко з Інституту мовознавства імені О. О. Потебні Національної академії наук України. Редагуванням перекладених на словенську мову слів та словосполучень та й усього словенського словникового корпусу займався доктор філологічних наук Сільво Торкар з Інституту словенської мови імені Франа Рамовша Науково-дослідного центру Словенської академії наук та мистецтв. Словник — з точки зору відповідності перекладу — редагувала ще судовий перекладач Наталія Глажар Берчiч. Українська частина словника здебiльшого ґрунтується на одинадцятитомному тлумачному Словнику української мови (1970–1981), а в основу словенської частини словника покладено словник словенської літературної мови (Slovar slovenskega knjižnega jezika, 1970–1991) і словенський правопис (Slovenski pravopis, 2001). Словник призначений для словенців, які подорожують в Україну та прагнуть пізнати українську мову, а також для всіх українців, які приїхали у Словенію працювати, або для тих, хто має бажання познайомитися зі словенською мовою. Словник - це ще один внесок у поглиблення контактів між обома народами та їхніми культурами.
---