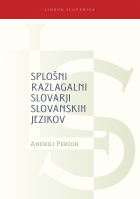 Title:
Author:
Year:
Compilation:
Keywords:
Language(s):
Description
The monograph ('General Monolingual Dictionaries of the Slavic Languages') provides an overview of the more prominent dictionary typologies, and an overview of general monolingual Slavic language dictionaries created from 1945 untill the present. The analysis presents how dictionary elements of selected dictionaries are treated at the macrostructural and microstructural level. For selected elements (homonymy and homography, multi-word headwords, sub-entries, grammatical information, referential definition type, multi-word lexical units and etymological information), suggestions for further lexicographical practice are given. The standpoint of these suggestions is that a dictionary serves as a representation of a lexicon and as a practical tool, which should effectively and transparently deliver reliable and relevant linguistic data and to a lesser extent non-linguistic data. The suggestions also take into account the completed transition from the initial print dictionary to the initial electronic dictionary, which to a certain extent requires reallocation of the data and to a lesser extent reorganization of data hierarchy.
Table of content
Predgovor
Seznam krajšav
Uvod
1 Slovarska tipologija
2 Slovanski splošni enojezični razlagalni slovarji
2.1 Pregled sedanjega stanja
2.1.1 Slovenski jezik
2.1.2 Hrvaški, srbski jezik
2.1.3 Bosanski jezik
2.1.4 Črnogorski jezik
2.1.5 Makedonski jezik
2.1.6 Bolgarski jezik
2.1.7 Češki jezik
2.1.8 Slovaški jezik
2.1.9 Poljski jezik
2.1.10 Lužiškosrbska jezika
2.1.11 Ruski jezik
2.1.12 Beloruski jezik
2.1.13 Ukrajinski jezik
2.1.14 Splošno stanje
2.2 Izbor slovarjev za obravnavo
2.2.1 Merila za izbor
2.2.2 Izbrani slovarji
2.3 Načrti novih razlagalnih slovarjev slovenskega jezika
2.3.1 Oris stanja
2.3.2 Predlog za izdelavo Slovarja sodobnega slovenskega jezika
2.3.3 Koncept novega razlagalnega slovarja slovenskega knjižnega jezika
3 Primerjalna analiza zgradbe in vsebine izbranih slovarjev
3.1 Slovarska zgradba in izhodišče analize
3.2 Makrostrukturne značilnosti
3.2.1 Splošno o makrostrukturi
3.2.2 Enakoizraznost in enakopisnost
3.2.3 Večbesedne iztočnice
3.2.4 Podiztočnice
3.3 Mikrostrukturne značilnosti
3.3.1 Splošno o mikrostrukturi
3.3.2 Glava in zaglavje
3.3.3 Razlage
3.3.4 Večbesedne leksikalne enote
3.3.5 Etimološki podatki
Zaključek
Povzetek
Summary
Viri in literatura
Imensko kazalo
More ...
Iztok Ilich: SPLOŠNI RAZLAGALNI SLOVARJI SLOVANSKIH JEZIKOV; Bukla let. 12/ št. 123-124, julij - avgust 2016
Publishing House
Založba ZRC
ISBN
978-961-254-890-2
Specifications
paperback • 14,5 × 21 cm • 208 pages
Price
16,00 EUR (Regular)
13,00 EUR (Club)