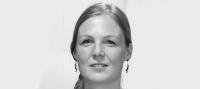 Researcher on the project the New Dictionary of Slovene language (Novi slovar slovenskega jezika)
Research interests
Špela Petric's research focuses on modern lexicology and lexicography. She is participating in the preparation of the Dictionary of Newer Standard Slovene Words and the New Dictionary of Slovene language.
Selected publications
Petric, Špela. O jeziku Dobromirovega evangelija, najstarejšega cirilskega spomenika makedonske redakcije cerkvene slovanščine iz 12. stoletja. Diplomsko delo. Ljubljana, 2009, 147 pp.
Curriculum Vitae
2003: completed one month Czech course in Charles University, Poděbrady.
2005: started undergraduate studies in Czech language and literature.
2008: presented a paper on the dialect of Kanalska Valley in a workshop on dialectology, organised by Youth Hostel Celica.
2006–2007: taught Czech in a language school.
2006–2007: worked as translator from English into Slovene and proof-reader for Slovene television.
2009: Graduated (BA Hons.) from the Faculty of Arts, University of Ljubljana, in Slavic Comparative Languages and Croatian, Serbian and Macedonian languages and literature.
2010: started postgraduate study in the Faculty of Arts, University of Ljubljana, in the field of Slovene Language and Literature.
Since November 2010: employed in the Fran Ramovš Institute of the Slovenian Language, ZRC SAZU.
Research areas
Linguistics H350 • Lexicology H353 • Baltic and Slavonic languages and literatures H590
Keywords
lexicography • phraseology • Czech studies
Recognitions & awards
Prešeren Award for Honours Thesis, awarded by the Faculty of Arts, University of Ljubljana